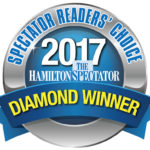 Clutter Relief Services is proud to be the Diamond Winner of The Hamilton Spectator Reader's Choice Awards in Senior Services in 2017..
That speaks volumes to us...
But see what more of our customers have to say in our testimonials...
---
Thank you Judy ❤ for getting us through the impossible. You kept us ...on track and you worked tirelessly. Your drive motivated all of us and look what we accomplished! What you do here is truly a gift. You are a beautiful person. Thank you for never once making us feel judged or embarrassed. Never a hint of judgement. Just a "let's get 'er done" attitude. And you persevered long hard days. I'm so proud to call you friend and I can't even put a price on what you gave us. It is priceless. I would suggest you to anyone that has recently divorced or ended a relationship or empty nesters... People feeling "stuck"... Anyone! We accomplished in 3 days with you what would have taken months or I would have died with all that stuff! LOL I can't believe you got my girls to part with so many things and be happy about it! thank you soooooo much!
Amy, Muskoka
I was feeling COMPLETELY overwhelmed in my own house. There was simply too much "stuff" after having 3 kids in under 3 years, working and taking courses. I hired Clutter Relief Services for 8 hours of service and together we TACKLED my garage, storage room in the basement, one of my daughters closets and the guest room. I could NEVER have done this without help. Contact Clutter Relief if you are looking for great, motivating help!
Two years ago, we had to place my mother into a long-term care facility because her Alzheimer's rendered her incapable of caring for herself. I was working full time as a Customs Inspector at Pearson Airport. I was also the mother of 2 girls, aged 2 and 4 .I made contact with Judy from Clutter Relief at this time as I was seeking advice how to do get rid of things. Her advice: "If it evokes a reaction when you pick it up, holds a story, or you can identify who gave it etc. Pack it and keep it. When you are ready, work through your boxes, one at a time and in time you will be able to let go".
I ended up with a lot of stuff in my basement and two years went by. Just before Christmas, a contest was held by Judy Rickey and Clutter Relief. She was offering 3 lucky people her services for 4 hours.. I was elated to win!! And it was going to happen in 2 weeks. It was with mixed elation and anxiety that I met this deadline. I tried to clear out paths to work in. I was given my instructions to prepare for the afternoon.
I was embarrassed, humiliated, angry at myself for letting it get this way, frustrated. Judy was empathetic. We bonded as she learned my story. My basement became this way because of my emotional attachment. My baby things, most of them are replaceable easily on my mom groups if we are blessed with another child. I am hyper attached to photos, so we put the thousands of them together. One day to be sorted, returned to the people in them, or scanned and put into albums. Every bit of the basement was grouped into categories. Judy and her friend Renata took the lead gave me small and manageable tasks. They kept me in the loop EVERY STEP of the way. The 4 hours flew by. The garbage to be taken to the dump was sorted and ready. My husband arrived home and couldn't believe how much was done in 4 hours. We worked hard. And as the boxes and bags were taken out...I started to feel lighter. They even set up a "sitting area" to envision what a real finished basement would be like. My daughters were ecstatic to have a place to play downstairs. It felt LIBERATING! I felt IN CONTROL! I was EMPOWERED!
To follow up: We got through the holidays. And we took everything to the dump. I have booked another 4 hour session for Judy and Renata to come. I am the first person to begrudge spending money unnecessarily. Especially for something I SHOULD BE DOING!! BUT this was an investment. My stress was practically cut in half!! I no longer get that anxiety going into my basement. It is functional, and now I really want to organize the rest! It made me realize we have too much stuff. And that I don't need to stock pile like my mother did. And memories are in your heart and mind and quality "stuff" we keep. Not just stuff. Finally, it has motivated us to tackle the other areas of our home!
Sometimes we just need a nudge, push or kick in the butt to get stuff done. Because I invested in this service, all of us are happier, enjoying our space and I now use my elliptical! Thanks for the Christmas weight loss!! So as you embark on the New Year, you may resolve losing lbs., but losing lbs of clutter is just as liberating and important to having a happy life. Please talk to Judy. She is full of great ideas and most of all, does it with compassion and support. It not just junk to her: because it's valuable to you. Thanks Judy and Renata! 2016 is going to be GREAT!!!
Glenda, Burlington
I often just turn the light on for the closet and stand in amazement at the organized stuff. Ditto with the office. So, yes I am enjoying the "liberated" spaces. It was all done so efficiently and quickly and yes I will want to call on your services just to come in and discuss possibilities and help me do a further refinement with the family archives.
Kathleen, Hamilton
You gave us the big start and I will finish. Again thank you and your gang. I would recommend you highly to friends. Hope I could call again if I needed your help down the road.
Sincerely Janet
I lived in my 1 bedroom condo for 12 years and things were really starting to pile up. I needed help! I searched online for organizers but did not find a good match for me. I did not want someone in my messy home for a day writing a plan or talking about the mess. I need someone who was willing to make actual progress from the start. Online one day I came across a mention of Clutter Relief Services and while reviewing their Facebook page something clicked. I called Judy and she made the trek to Toronto several times. I was involved in the process as I wanted a say in every decision on whether something stays, is donated or trashed.
We got rid of a lot of stuff and my home is much better organized thanks to Judy's ideas. Judy is hardworking, friendly, flexible and has fair prices. I highly recommend her and Clutter Relief Services!
Greg, Toronto
Don't Know What I Would Do ... without Clutter Relief Services. I had moved in a hurry and still had unpacked boxes stacked to the ceiling months later. Judy helped turn my house into a home and now she helps me keep it neat and organized. She comes twice a month now and we'll pick a room to work on. I've thinned out my closet, my craft room is finally functional and my prized collectibles are out of boxes and on shelves where I can enjoy them. My home is ready for company anytime now and I couldn't be more grateful. I wouldn't just recommend her to a friend -I'd insist!
Lisa - Happy in Hamilton
It's difficult to express how grateful we are for your assistance in sorting out the chaos in our home. You have a special way of enabling the release of "stuff"-material and otherwise
Brenda, Burlington
Until you see the before and after changes in your space it is hard to justify the cost of an organizer but once you do you want to keep it clean and organized and do the rest of the house.
Thanks very much for your guidance and hard working nature. You are also great in dealing with the kids in getting them to let go of things and get their rooms organized. It is so much easier to get the job done when you do it with someone else who can keep you focused. Taking our car loads of donations to charity was an added bonus as well and one less thing to worry about.
Your service is worth every penny for those that work full-time and have young kids and busy lives. Thanks again for all your hard work and getting us well on the road to reclaiming our space.
Andrew, Burlington
I recently decided I needed to look into some type of decluttering service, about 6 months prior I began to empty closets that needed organizing however shortly thereafter I had an fall which has been preventing me from getting this job done. It was getting to be very bothersome, as usually I'm somewhat organized. I decided to get 3 estimates and I chose Judy, Clutter Relief Services. Judy has been my blessing in disguise, I honestly cannot tell you how grateful I am for her outstanding services. Together we accomplished so much, its literally a relief. I can rest and not feel so bothered by what awaits me. Judy's estimate was very fair and reasonable, she was a pleasure to work with, given I have so many limitations. She was extremely helpful and kind.
I would give Judy a 10 out 10 for a job well done, above and beyond.
It's like a huge weight has been lifted.
Thank you Judy 
Lorraine, Binbrook
Judy came to my house last week and helped me organize and de clutter all of the toys in my house. She helped me accomplish something I've wanted to do for years. It has literally been a life changer for my kids and I. I highly recommend her!!!
Helen, Burlington